CyberPlat® is distinguished by MegaFon for the high technical performance level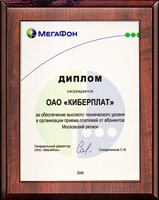 One of the largest Russian mobile communication operators, MegaFon, has awarded CyberPlat® with an honorary diploma for the high technical performance level of payment acceptance from its subscribers.
This diploma distinguishes technical excellence of the Cyberplat electronic payment system, which is still retaining the leading position in the cash-in payment acceptance market. Earlier, the highest quality of the services rendered by the CyberPlat® Company and its system reliability were marked many times by the awards of MegaFon and the two largest mobile communication operators, MTS and Beeline.
As of today, millions of Russians are enjoying the services of CyberPlat®. Over 1 billion 250 million payments were made via the CyberPlat® electronic payment system in the course of the year 2007 alone. The CyberPlat® electronic payment system has given the Russian people a chance to effect payments, conveniently, quickly, and easily, in respect to the most different organizations: operators of the mobile and fixed-line communication, commercial TV, Internet providers, the companies, which provide housing and communal services, systems of air ticket sale, security alarm systems, banks, engaged in consumer crediting and many others.
"Approximately, two thirds of total population of Russia are enjoying the services of our system, therefore it is very necessary that it functions fail-free. We have been working in the payment acceptance market for 10 years already and all this time we have been updating and improving the whole technological platform", Executive Director of CyberPlat OJSC, Vladimir Kuznetsov, stated — "I am confident that the award, conferred by MegaFon, is the testimony that our partners see and value our efforts."
MEGAFON OJSC
MegaFon is the first all-Russia operator of the GSM 900/1800 standard. The Company was incorporated in May, 2002. The license coverage of MegaFon OJSC, as well as of its 100%-owned subsidiaries, embraces the entire territory of the Russian Federation with the population of 145 million people.