Service «CyberChange»
The CyberPlat® electronic payment system implemented in 2008 a new product which is unique for the Russian market of electronic payments – depositation of change to mobile phone accounts using a bar-code.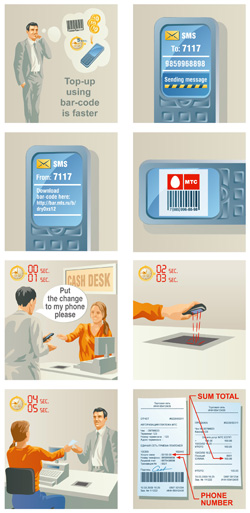 While paying for purchases at a cash desk of a retail chain, the customer gives to the cashier a card with encoded phone number or a mobile phone with a bar-code image on the phone screen and asks to transfer the change amount to the personal account in the billing system of a mobile network operator. The cashier scans the bar-code, effects the online payment and gives the customer a receipt. For implementing the project, the CyberPlat® electronic payment system developed a special processing solution which is easily integrated with the software for cash registers used in the retail chains.
The use of bar-code considerably simplifies and quickens the payment process. This technology reduces the time of servicing the customers which is quite crucial for retail chains with heavy customer traffic. A considerable time saving while effecting the transactions makes it appealing as to the customers, so to the retail chains.
The pilot project on depositation of change to mobile phone accounts has been started by the CyberPlat® electronic payment system and implemented in one of the retail chains in Moscow, Moscow Region and Tula. While paying for their purchases, MTS subscribers can now direct the cashier to transfer their change amounts to their mobile phone accounts.
The payer can receive the bar-code on the operator's website or on the website of the CyberPlat® electronic payment system at http://card.cyberplat.ru/barcode, as well as receive it with a mobile phone having sent an SMS request to the short number 7117 (presently works only for the MTS subscribers; the service will soon be available for the other telecommunications providers).
The "CyberChange" project brings numerous benefits to every participant of settlements:
The customers no longer need to "tip" the cashiers and overload their wallets and purses with a big number of coins. In this case, the main benefit for the customers is their time saving. The process of payment for the mobile phone using a bar-code card becomes fast, convenient and comfortable for the payers.
The trading enterprise begins earning on the "change" process receiving its additional income in form of a commission fee for accepting payments and cuts its costs by eliminating the need for ordering and receiving metal money in the bank. Besides, it is expected that implementation of such project will also reduce the circulation of banknotes of small denomination such as 10 rubles and 50 roubles.
The cashiers get rid of their "headache" caused by having to deal with the coins and small denominations. The very process of "giving change" becomes faster which leads to the increase of the number of customers serviced by a single cash desk.

You are invited
to accept payments and make money
with the help of CyberPlat®!