How to accept payments in a shop
CyberPlat® recommendations

A shop turnover depends on the daily customer flow to a great extend. If a shop customer is able to pay for various services rendered by different providers, such customer becomes a loyal frequenter. Eventually, it results in revenue increase and more profit for the shop.
A customer who visits the shop to pay for the mobile phone, Internet, TV or any other services, often buys something from the shop too. Our long term experience shows that CyberPlat® increases a shop's turnover by 10% to 40% depending on the shop type, advertising, and personnel expertise. Besides, the shop receives commission from CyberPlat® which can be quite ample if the service has been launched in the right way.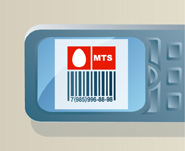 Barcode can be used to reduce time. The subscriber's telephone number is translated into a bar-code and printed on a special plastic or paper card, mobile phone screen or any other appropriate thing. To effect a payment, the cashier will only need to pass the bar-code through the bar-code scanner. The necessary software is supplied for free by CyberPlat®.
CyberPlat® recommends issuing such cards for advertising, bonus programmes, loyalty winning programmes and the like.
Speaking about organization of the process, the payment made at the cash register takes some of the cashier's work time, albeit not very much. If the shop is visited by a large number of customers, the cashier may grow a line during the rush hour. For the rush hour, CyberPlat® recommends accepting only 500+ roubles payments (making exclusions for those customers who also buy something from the shop). Smaller amounts are also acceptable if they are meant for satellite TV or security services: such customers are usually well-to-do people whose loyalty is worth being won.
At a different time, when there are no lines, all payments are accepted and that make the merchandising more effective. At a large shop, where lines are normal, it will be practical to set up a special cashier's place for payments.
To increase the return on payments, the service should be well advertised and the visitors should be informed of the procedure. External (outdoor) advertising will work for the primary period to inform the customers of the new service. Later on, when the customers are used to this service, the external advertising can be skipped.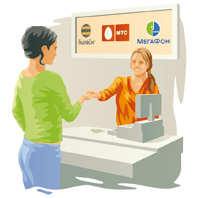 We also recommend stickers and posters of the largest mobile and fixed phone lines companies, as well as other providers. Radio advertising encouraging the customers to pay for services at the cashier's place works well for supermarkets. This will encourage potential visitors to go to the shop (even if they were not intending to do so) and pay for their mobile phone, TV, Internet or housing utilities. With efficient advertising, customers flow may double.
To set up a payment point at your shop, you will need to sign a contract with CyberPlat® (www.cyberplat.com). The procedure is extremely simple and will not take any effort at all. You may also register on-line. To do this, you need to follow this link: https://customer.cyberplat.ru/dealer/register.html and register, and send the contract by post. After signing the contract, the connection procedure takes place (also profusely described on the company's site). Actually, you may start transacting payments on the same day you registered.
CyberPlat® offers a wide range of services including payments for mobile phones, Internet services, satellite and cable television, fixed line and IP telephony services, public utility services, airline tickets booking and selling, security systems services etc. At present the largest share of payments is the payments for mobile phones, but other services are in demand too, that is why they are rewarding and should be offered to the customers.
CyberPlat® technology allows to use a wide range of terminal types at the owner's option.
The cashier's equipment may be:
a common PC connected to the Internet;
typical cash registers;
POS terminals at cashier's work place for bank cards payments;
mobile phone or smartphone with Java application support.